Timestrip Seafood 8ˇăC/2,4 Hours (TP-349)
Timestrip® Food 8°C
- For Fresh Fish, Food
- 8°C/46°F threshold
- 2 ~ 4-hour run-out window
- Activation blister on top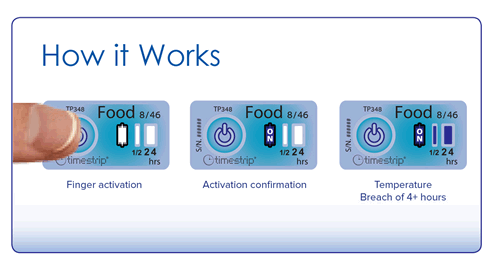 1. Activation: This is possible only when the temperature of the product is above refrigerated temperatures. Fully squeeze the button between thumb and finger. A blue line and the word 'ON' will appear. Within 5 minutes, place the indicator at 6°C or below for a minimum of 1 Hour. This will arm the indicator so it can begin to monitor temperature. If the item or carrying card is already at 6°C or below, the indicator can be stuck to it directly after activation. In the unlikely event that an indicator shows blue before you activate it, there is no need to contact customer service. Simply discard and take a new one. 1 or 2 products per 100 count are always provided free of charge.
2. Monitoring: Once the Food indicator is armed, as long as temperatures stay below 8°C the blue dye will not progress to the white window. No breach has occurred.

3. Breached: Every time the temperature breach has occurred the blue dye will move across the white window and record the cumulative time spent in breach. The progress of the blue dye is irreversible but it will stop each time the temperature drops to 6°C or less.